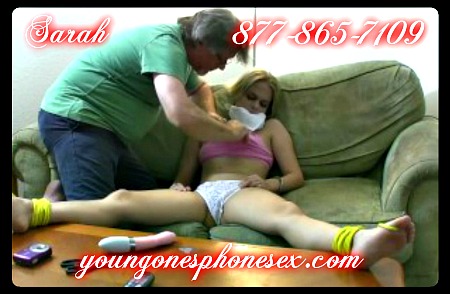 So, last night I was a bad girl. Daddy wanted to have sex, but I told him that I wasn't in the mood. But daddy knew what was really going on.
              There is this new, really sexy man who just moved in next door. I think about him a lot lately. The way his hair falls in front of his face when he bends down to pick up packages.
              His sexy, chiseled abs. Actually, his whole body was chiseled, like some real-life Adonis. I would think about him as I touched myself at night, and daddy knew that's why I wasn't horny.
              She was really mad and stormed off when I told him no. I've never actually told daddy no before. He was kind of scary looking as he walked off, I wonder what must be going through his mind.
              As I sit on the couch, watching our neighbor grab his mail, daddy came back into the room with a bunch of rope and tape. My eyes widened, daddy wouldn't possibly force me to do anything, right?
              I giggled at the thought, he looked back at me and asked why I was laughing. I told him it was something on tv, but the tv wasn't on. So, he got even more mad at me.
              He grabbed the rope and snapped it, "Are you enjoying lying to me?" he grabbed me by the arm then threw me to the floor. I stammered and told him, no, but he continued tying me up.
              He was so strong, "I will teach you what happens when you are naughty and lie to me!" I struggled, trying to free myself, but daddy just pulled the rope tighter.